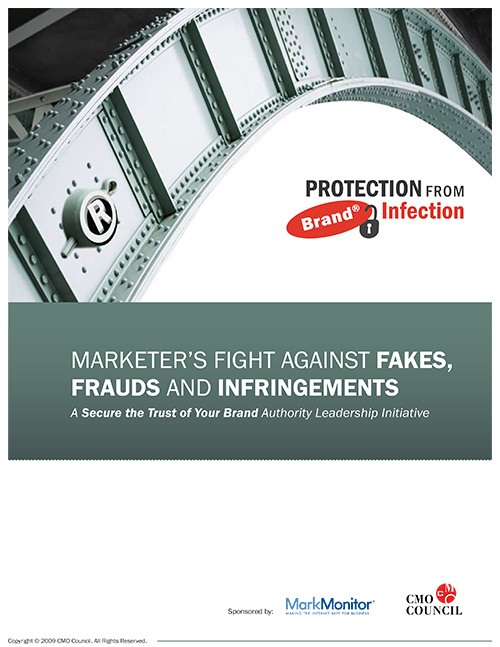 Marketer's Fight Against Fakes, Frauds and Infringements
Sophisticated and savvy online brand extortionists and cyber scammers are boldly preying on unsuspecting consumers with bogus brand name email/websites, deals and inducements that entrap, extort and expose consumers to financial loss, identity theft, and viral infection. Offline, global and organized counterfeiting operations fueled by the down economy are flooding the market with knock-offs and fakes. Most importantly, as architects and stewards of the customer experience, marketers are confronting this collision of trust and trespass, knowing that the value of a brand can directly affect customer loyalty and advocacy.

The Protection from Brand Infection report explores the degree to which senior global marketers are sensitized to, and concerned about, brand hijacking, product piracy, cyber fraud, and other Internet reputation risks. It also quantifies the impact these incidents are having on brand trust, confidence, credibility and affinity among consumers, channels and business partners. Through both enterprise and consumer research, it identifies best practices for pre-empting digital and/or physical counterfeiting and containing or mitigating the resulting damage to bruised or battered brands. The full report includes conversations with leading global marketers about the strategies and effectiveness of resources, solutions, and services being employed in the both the detection and protection of brand infection worldwide.