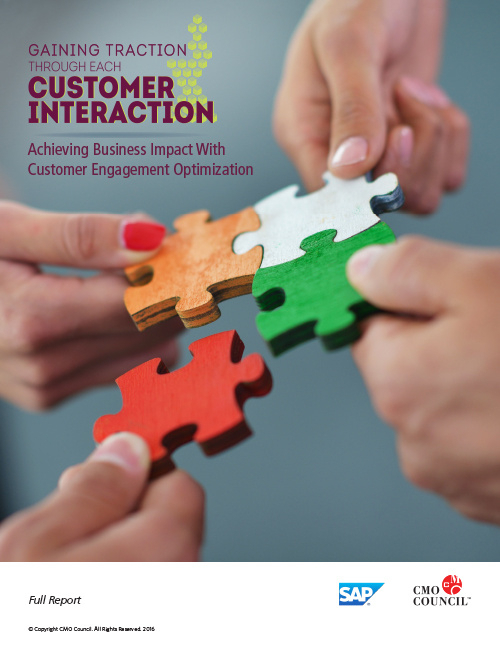 Achieving Business Impact With Customer Engagement Optimization
Despite marketing's best intentions and desire to deliver on the promise of customer centricity, many of us are stymied by gaps and deficiencies across the people, processes and platforms that are powering our customer interactions. In fact, in a recent study, the CMO Council found that marketers across Asia-Pacific admitted that their back-office systems were not enabling their brands to fulfill their brand promises.
To uncover the gaps and roadblocks that are preventing marketers from maximizing customer engagements, the CMO Council partnered with SAP to produce its Asia-Pacific-focused report, entitled "Gaining Traction Through Each Customer Interaction." In addition to highlighting customer experience barriers, the report also provides a better understanding of the reward and revenue upside from these critical engagements and benchmarks where and how marketers can advance the customer experience and engagement agenda. It also features insights from marketers with leading brands such as Salesforce, Philips, Coles, AT&T, Vodafone, GSK, McDonald's and more. An accompanying infographic is also available at http://www.cmocouncil.org/optimizing-customer-experience-infographic.